Valiant Reindeer with Luxury Santa's Sleigh (Left Facing), Christmas decoration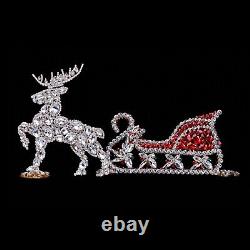 Valiant Reindeer with Luxury Santa's Sleigh (Left Facing). Rhinestones crystal valiant reindeer and Santa's luxury sleigh from clear and red rhinestones is a wonderful Christmas decoration set.
The lovely Reindeer's Sleigh Christmas decoration will help you get in the festive spirit. This handcrafted item from Czech has beautiful reindeer and a sleigh decorated with crystal clear and red rhinestones. This distinctive and eye-catching ornament will add a festive touch to your home and add a special touch to your holiday season. Don't wait any longer and order your Reindeer's Sleigh now. It's sure to be a conversation starter! A valiant reindeer with its right front leg raised is handcrafted in clear rhinestone crystals. The valiant reindeer with the right front leg raised and the left front leg placed strategically on a set of stones is decorated with intricately cut Clear coloured Rhinestone Crystals. Size: 9,05 x 11,41 inch (23 x 29 cm). Santa's splendid handcrafted sleigh is a wonderful christmas decoration to add to your table top Christmas ornament collection. This beautiful crafted Santa's Sleigh (Left facing) is splendidly decorated with Clear, LT Siam and Emerald coloured Rhinestone Crystals. A sleigh perfectly crafted to help Santa deliver presents to all boys and girls. Size : 5,11 x 10,23 inch (13 x 26 cm).
We follow the spectacular craft bijoux history of our region. We use old handmade techniques and use only the finest material and best quality crystal's. We are able to meet the demanding requirements of designs (figures up 1m high). All of our products are carefully packaged to avoid damage.
Free worldwide economical transport may take up 2 to 30 days. You will get your hands on an extraordinary handmade product made of strass jewelry by the leading Czech designer Roman Matous from Jablonec nad Nisou. The glass crystal also called lead crystal made its appearance in the 18th century during the Age of Enlightenment. When the first objects using this material appeared, the crystal was considered a wonderful, precious, noble, and desirable material.
Long before Swarovski jewelry, in Paris, a jeweler named Strass specialized in the manufacture of jewelry made from glass crystals and became famous for his creations, so much so that Strass became a common name for glass crystals. Where is Jablonec nad Nisou? Does the name Swarovski mean anything to you?
Daniel Swarovski was a jewelry craftsman. His father was a jeweler in Jablonec, one of the major glass centers in Bohemia. That's where he learns the size of bohemian crystals by hand. Daniel Swarovski grew up in this region specializing in the production of cut crystals for highly sought-after objects d'art, the famous Bohemian crystal.
Can I contact Roman Matous? Roman is a very busy man, but he will try to answer you as soon as possible. Send him a message here.