Bradford Exchange Thomas Kinkade Almost Christmas Santa, Sleigh & Reindeer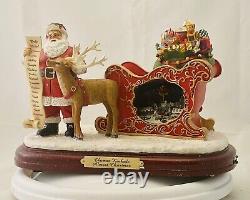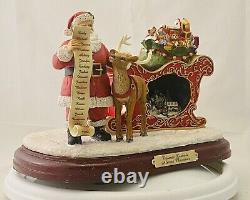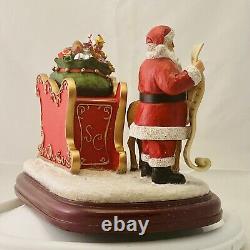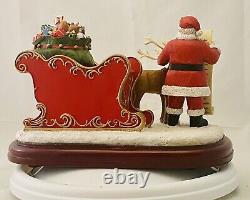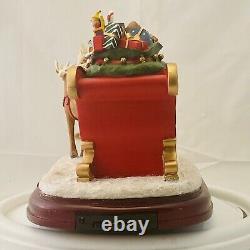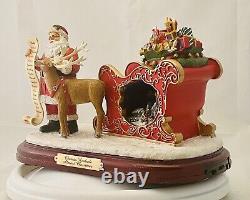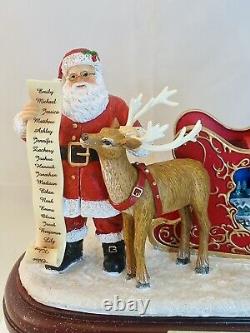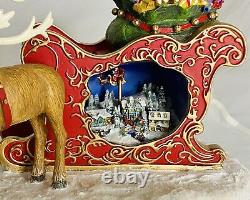 Individually hand-cast and hand-painted, the Thomas Kinkade way. This "Almost Christmas Masterpiece Treasure" presents a beautifully sculpted Santa standing by his richly adorned sleigh, petting a gentle reindeer as he gives his Nice List one more look over, to be sure no good little girl or boy is left out. In the back of the sleigh sits his special bag, overflowing with toys, each sculpted in detail and hand painted. But take another look at the sleigh it holds a fascinating treat! There's a miniature illuminated Thomas Kinkade-inspired village inside, with a sneak peek at Santas journey, as he and his sleigh actually fly high above a snow-covered landscape.
And through it all, you'll hear a medley of your favorite holiday classics filling the frosty air, because it's musical too - plays a medley of 8 classic holiday favorites. Just flip the built-in auto-timer switch to start the lights, motion and music. An elegant wood-tone base, covered with glittering "snow", with a golden title plaque, adding the easiest finishing touch to this Thomas Kinkade Santa sculpture. Measures approximately 12" long x 7" high. Powered by an AC Adaptor - INCLUDED. Or 3 AA batteries (not included). Packed in the original custom fitted Styrofoam box (Included).